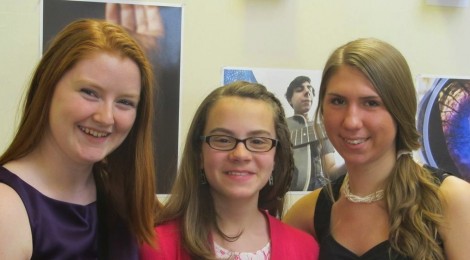 Spring 2013, RPI students enrolled in the HASS course 
Sustainability Education
 mentored local secondary school students through a nine-week research program focused on environmental and sustainability challenges in different countries. Each secondary student produced a  written report, and presented their research at a symposium at RPI on Sunday, April 28.  The symposium's full program can be accessed  here: 
EcoEdSSRP SymposiumProgramSpring2013
.
The course Sustainability Education extends the work of RPI's EcoEd Research Group, which works to extend the impact of university research through educational outreach to K-12 students.  University students become translators, designing curriculum for younger students that teaches them about environmental problems and solutions, and about ways critical thinking, creativity and literacy can be used to make the world a better place. A key goal is to increase students' investment in both education and environmental sustainability, leveraging the ways environmental education can increase overall student achievement. The EcoEd Research Group is led by Professor Kim Fortun and is based in RPI's Sustainability Studies Program, Department of Science and Technology Studies, School of Humanities, Arts and Social Sciences.
Photo is Tamarac Middle School student Lily Fitzgerald (middle) with RPI student mentors Kelley Fischbach (Environmental Engineering) and Julia Grabazs (Architecture).