Upcoming Events
Interconnections – Earth Week Schedule, Spring 2016
Previous Events
Interconnections – Earth Week Festival, Spring 2014
Earth Week Research and Arts Festival, Spring 2013
Sustainability Research Workshop, Fall 2012
Apr
21
Sun
Workshop: "Guinean Drum and Dance"
Apr 21 @ 3:00 pm – 4:00 pm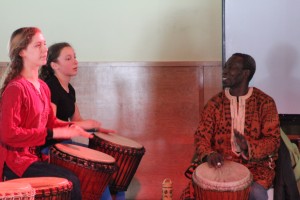 Please RSVP for this event at: http://sustainabilityresearch.wp.rpi.edu/earth-week-research-and-arts-festival/for-kids/
Instructor Bio
Mamadouba "Mimo" Camara was a lead performer with Les Ballets Africains, the national company of Guinea, West Africa for 18 years before he moved to the Hudson Valley in 1995. Since then, he has continued to spread the richness and joy of his country's cultural heritage through teaching youth and adults in a variety of venues.
Workshop: "Mask-making for Biodiversity"
Apr 21 @ 4:30 pm – 5:30 pm
Please RSVP for this event at: http://sustainabilityresearch.wp.rpi.edu/earth-week-research-and-arts-festival/for-kids/
The Mask Making Workshop for children age six and up will explore how animals and plants are connected in a healthy ecosystem. Children will decorate animal masks, and learn about biodiversity and species endangerment.
The workshop is free; advance registration is required. Children younger than six are welcome if accompanied by a parent. Food will be available in EMPAC's lobby before and after the workshop. Register here.
Following the workshop, children and their families can attend an outdoor world drum concert and musical procession that ends in RPI's EMPAC concert hall with a performance of Susie Ibarra's newly commissioned Earth Week tribute, Circadian Rhythms. The performance will interweave percussion from diverse traditions with diverse animal and bird recordings from Cornell's Macaulay Library – celebrating biological, cultural and sensory diversity.
Apr
26
Sat
Demonstration: Citizens' Water Monitoring Lights Up
Apr 26 @ 1:00 am – 2:30 am
Anthropologist and tech-innovator Sara Wylie (Northeastern Environmental Health Research Institute), working with tech-innovators in the Troy community, will demonstrate technologies developed to help citizens monitor water quality at low cost. Thermal-sensing fishing bobs will be floated in Robison Pool around islands of ice, and photographed when they light up. Temperature differentials can point to pollution plumes in water.
Earth Week Finale Festival
Apr 26 @ 3:00 pm – 9:00 pm
Rensselaer's Earth Week Festival Finale will celebrate Interconnections – between students of different ages, between students and sustainability professionals, between the university and the Troy community.  The afternoon will feature:
Performances
Games
Educational Demos
Food
Films
Discussions
A Green Careers Meet and Greet
The Festival Finale will showcase and celebrate teaching and research focused on environmental sustainability, and RPI students will run kiosks for kids to share their excitement and knowledge about an array of environmental topics.  There will be performances by jugglers, parkour athletes, and music ensembles, a green career meet-and-greet, and a screening of the film, Bidder 70, followed by a discussion run by RPI students about intergenerational ethics and environmental activism.
The Festival Finale will be at the RPI Student Union on 15th Street.  All activities will be free and open to the public.